By Lois Fearne
Maybe you LOVE them as much as Buddy the Elf loves Christmas or hate hate hate loathe them entirely like the Grinch. Christmas TV ads are a pivotal part of British festive traditions and a strong signal that the oh-so-jolly season is fast approaching.
We used the OnePulse platform throughout October and November to gauge British consumers' thoughts on Christmas ads. 60% say Christmas ads get them into the spirit of Christmas, and they would miss them if they did not air in the lead-up to Christmas. Despite the love, only 1 in 10 are heavily influenced by ads during the festive period.

So, are these supermarket mini-movies losing their touch? Let's take a look at what British consumers put on their ad wishlist this year and see if they got what they wanted.
What did Pulsers want from ads this year?
Ahead of the ad drops, we tapped into our British community, asking what they would like to see from the supermarket Christmas ads this year:
68% wanted a sense of festive escapism, and only 33% said they prefer it when ads are about the brand's products or services
39% wanted to see Christmas price cuts amid a cost-of-living crisis
36% wanted to learn about how the supermarkets are supporting their customers amid the cost of living, with 73% adding that it's out of touch for brands to blow millions on big-budget ads right now
27% wanted to see a traditional Christmas message
31% wanted real families to be the star of the Christmas ads and not celebs
It's also been an eventual year. From war in Ukraine to inflation hitting its highest rate since 1982, the passing of Queen Elizabeth II, and three Prime Ministers in one year. Which events would consumers have been open to seeing in the Christmas ads this year?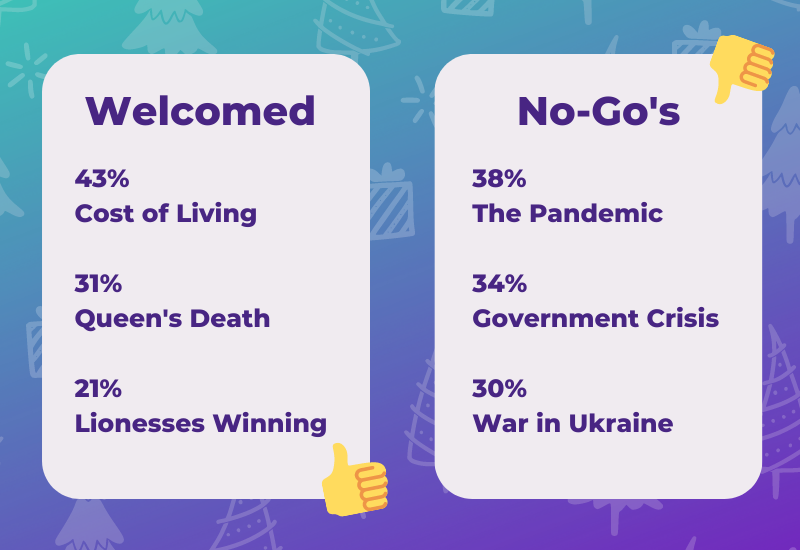 To read more about what Brits were expecting from Christmas ads this year, tap here.
What did Pulsers get from ads this year?
Times are tough, and money for many is tight, so it makes sense that all consumers wanted was a few minutes of pure escapism from the Christmas ads this year. Many nailed it, but a few got our Pulsers talking for the wrong reasons. We've Pulsed some of the most stand-out supermarket Christmas campaigns of 2022 to see which captured the community's hearts the most. Let's dive into it!

ASDA turned to Buddy the Elf to spread festive cheer for all to hear 🎅🏻
Ahead of all the ad drops, 2 in 3 Pulsers told us they longed for festive escapism within the Christmas ads this year. And thanks to Buddy the Elf, ASDA certainly gave the nation what it wanted. 64% said the ad gave them a sense of escapism, with 1 in 2 saying 'fun' sums up the ad. For more insights on ASDA's campaign, tap here and here!
It was awesome, Elf is my favourite Christmas movie anyhow, so it was a lovely surprise to see this Asda advert..,it was great and put a massive smile on my face… Christmas is coming!

Pulser reaction to the ASDA's Christmas ad
M&S Food had Fairy and her sidekick Duckie spreading Christmas cheer 🧚
The much-loved Fairy character, voiced by Dawn French, returned for a second year running with a new sidekick Duckie voiced by Jennifer Saunders. Over 1 in 5 (22%) described the M&S campaign as creative. However, 43% fear the retailer has missed the mark a little in its messaging amid a cost-of-living crisis. For more insights on M&S's campaign, tap here and here!
It was well-scripted, well-produced, fun and interestingly showcased the products.

Pulser reaction to the M&S Christmas ad
Tesco stood up for joy in a political-style video 😃
There was no tear-jerking ad from Tesco, as the retailer took on a political-style campaign video saying they are "standing up for joy this year, helping people to celebrate in style, no matter what their budget is." Despite communicating its price cuts and promises, only 1 in 3 are likely to check out Tesco this Christmas. For more insights on Tesco's campaign, tap here and here!
I wasn't a huge fan of this one; it didn't provide an escape from the gloom the country is facing and highlighted the money worries. It was a bit basic, too!

Pulser reaction to the Tesco Christmas ad
Sainsbury's tapped on Alison Hammond in their fairytale-like ad 👑
We saw a Christmas pudding-hating countess (Alison Hammond) order a young cook to bring her a new dessert for her lavish Christmas spread. Despite only 7% saying they enjoy ads with celebs, our Pulsers loved Alison's cameo, with 28% describing the ad as fun. There were mixed reactions to the ad's overall messaging, with many commenting that the gluttony is a little out of touch amid the cost of living crisis. For more insights on Sainsbury's campaign, tap here and here!
Alison Hammond looked amazing, and I love that they included her infectious laugh, and catchphrase

Pulser reaction to the Sainsbury's Christmas ad
Morrisons' Farmer Christmas was back to thank British farmers 🥕
Morrisons' festive character Farmer Christmas is back, thanking British farmers for their work that makes Christmas memorable for families at Christmas. 30% described the 2022 campaign as heartwarming, with 1 in 3 saying they're more likely to shop at Morrison's this Christmas. For more insights on Morrison's campaign, tap here and here! 
I liked the farmer on a tractor idea. A refreshing change from Santa on a sleigh.

Pulser reaction to the Morrison's Christmas ad
Lidl Bear shared his story from stuffing to riches 🧸
We saw a 'Lidl Bear' take centre stage in the ad as he rose to fame, got wrapped up in stardom life, and forgot about his owner. Of course, in true Christmas style, the ad concludes with the bear realising the importance of family. 1 in 3 summed up the ad as 'heartwarming', with 1 in 2 adding that they appreciated the sense of escapism the ad provided. For more insights on Lidl's campaign, tap here and here!
This is lively, and it captured my heart. I want a Lidl bear, and I'm sure others will too. Super sweet Christmas ad with true meaning.

Pulser reaction to the Lidl Christmas ad
Aldi brought back a festive favourite of Kevin the carrot 🥕
Inspired by the classic holiday movie Home Alone, Katie the Carrot was seen sitting on the plane before realising Kevin wasn't there. 1 in 4 Pulsers said the ad made them feel super festive, with 28% summing up the ad as creative. For more insights on Aldi's campaign, tap here, and here!
It's very festive and doesn't make it about politics or any other current events, just fun and heartwarming and funny

Pulser reaction to the Aldi Christmas ad
And the most loved ad was…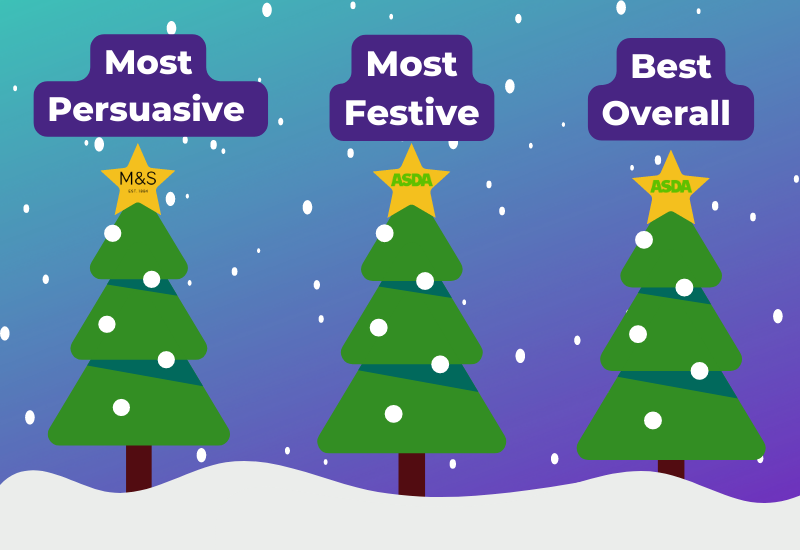 The nation wanted festive escapism, and ASDA made their Christmas ad wish come true as the community crowned the ASDA ad as the most festive and best overall. Congrats to our friends at M&S, who took the most persuasive Christmas crown and won the community over with their delicious food offerings.

Check out this blog to help you ace your next Pulse, and who knows, you might be the star on the OnePulse Christmas ad tree next year!