Super Bowl advertising has long been renowned for its brand exposure. Companies strive to be associated with the big game, as it offers a unique opportunity to reach a large, engaged audience.
In fact, companies are willing to pay up to $7 million for a 30-second ad spot during Super Bowl LVII to engage with the estimated 112.3 million viewers.
To capitalize on the opportunity (and possibly split the cost), many brands have turned to creative partnerships. Molson Coors is teaming up with DraftKings to create a prediction game that offers fans a chance to win a share of a $500,000. Meanwhile, Heineken's ad will feature Marvel's Ant-Man and Michelob Ultra is promoting Netflix's original golf docuseries.
These brand partnerships are helping to create a unique experience for the consumer and drive engagement. They also provide an opportunity to measure success with metrics such as PR impressions, brand health sentiment and engagement, as well as sales.
Here's what we learned after talking to the OnePulse community about the latest Super Bowl ads.
Michelob Ultra Tees Off
Michelob Ultra, an official sponsor of the PGA Tour since 2002, teased its Super Bowl ads with a "Caddyshack" theme, offering a unique spin on the classic comedy. The beer company has also announced a partnership with Netflix's upcoming docuseries "Full Swing," which follows professional golfers as they compete for the ultimate prize.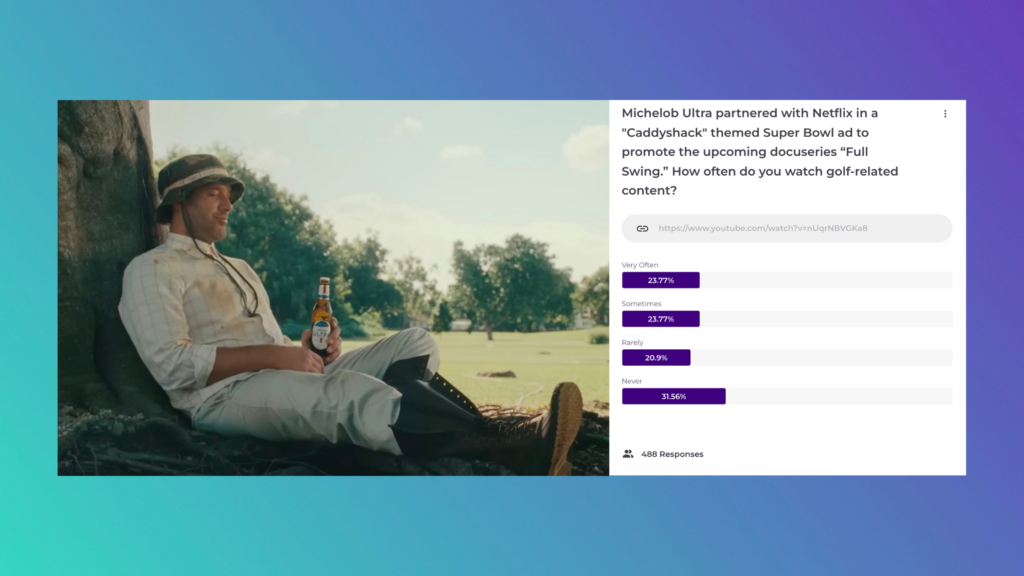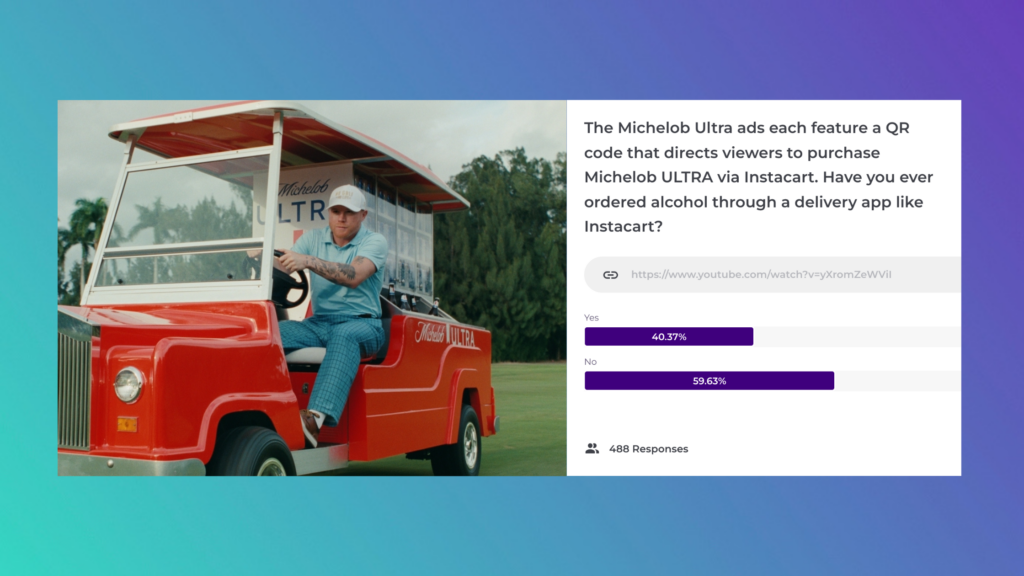 When we asked the OnePulse community, 47% said they consume golf-related content somewhat regularly.
Featuring celebrities such as Tony Romo, Alex Morgan, and Canelo Álvarez, the ads will include a QR code at the end of each commercial to encourage consumers to purchase Michelob. We learned that 60% of consumers have never purchased alcohol through a delivery app like Instacart, and that women are 12% more likely to do so than men.
We also asked consumers about their Anheuser Busch preferences and found that Budweiser and Bud Light were among their top choices.
Molson Coors' High Stakes Brews
Molson Coors is raising the stakes for their first Super Bowl ad in 30 years through a partnership with sports-betting platform DraftKings.
The brewer pitted two of its top light beer brands, Coors Light and Miller Lite, against each other in a New York Times ad to generate excitement about which one would be featured during the big game.
When we asked the OnePulse fam about their beer preferences, US drinkers were nearly twice as likely to choose Coors Light over Miller Lite. Even more surprisingly, Blue Moon came out on top when we asked which Molson Coors beer they were most likely to buy – even surpassing Miller Lite.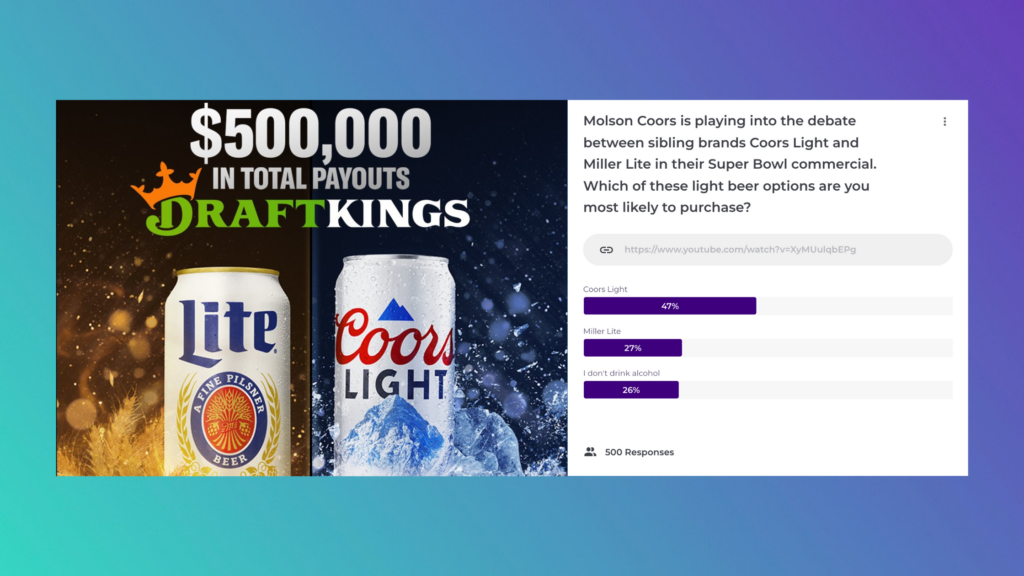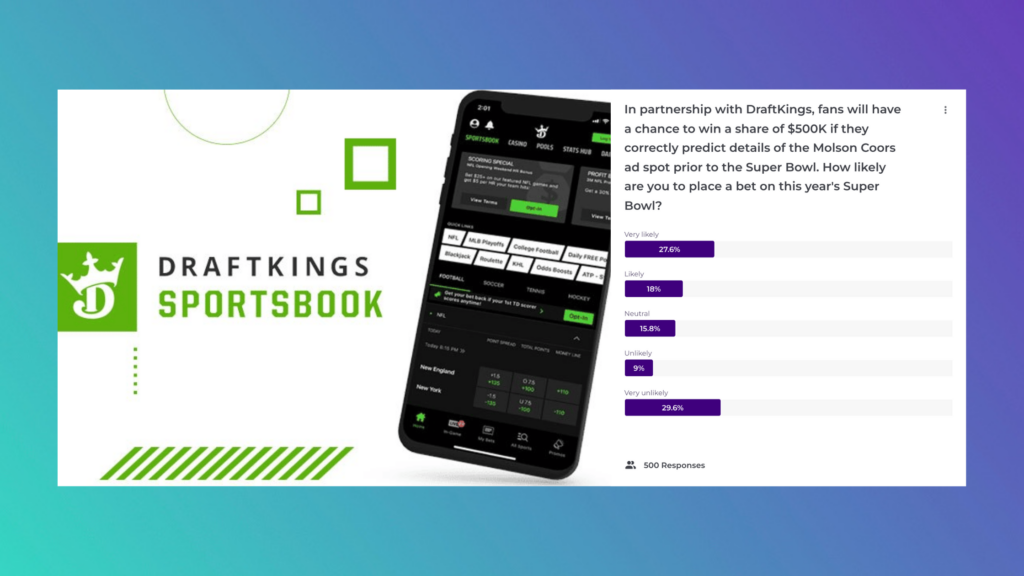 The DraftKings partnership will challenge fans to predict the outcome of the Super Bowl ad spot for a chance to win a share of the $500K grand prize. This will help engage viewers and make the ad more memorable – especially among the estimated 50 million people who placed a bet this past NFL season.
As sports betting continues to gain popularity, according to a recent Pulse, an impressive 45.6% of consumers have indicated that they plan to place a wager on the biggest sporting event of the year – the Super Bowl. With the amount of money that is bet on the Super Bowl each year, it's no surprise that Molson Coors is taking advantage of the gaming trend.
Heineken's Super Sober Bowl
Heineken is continuing their partnership with Marvel to promote their non-alcoholic beer, Heineken 0.0, and the upcoming film "Ant-Man and The Wasp: Quantumania" with a 30-second ad spot airing during the Super Bowl. This will make Heineken the first non-alcoholic adult beverage to be featured during the event.
This strategy reflects the growing trend of mindful drinking and non-alcoholic beer, with more and more companies producing alcohol-free beverages to meet the demand.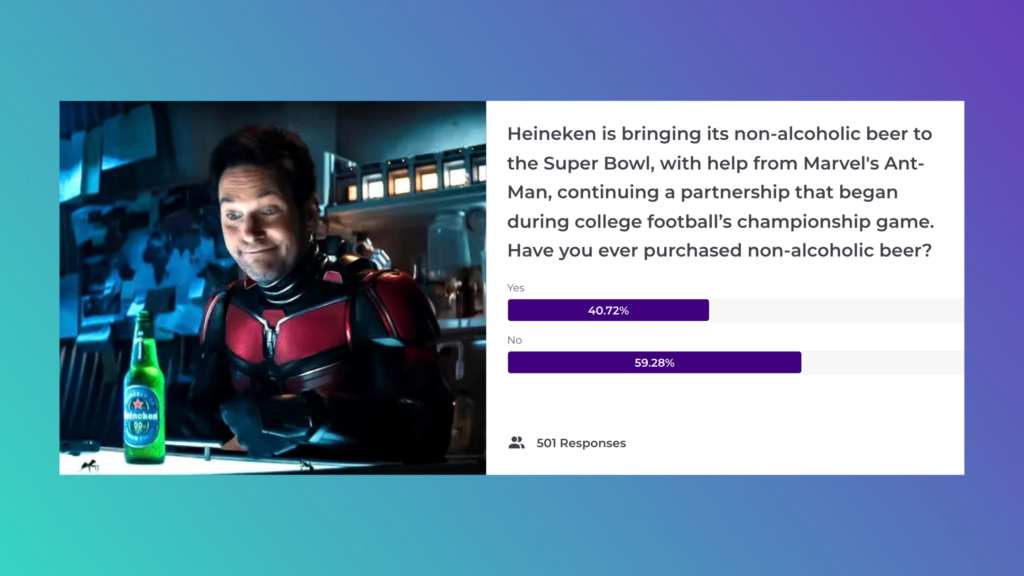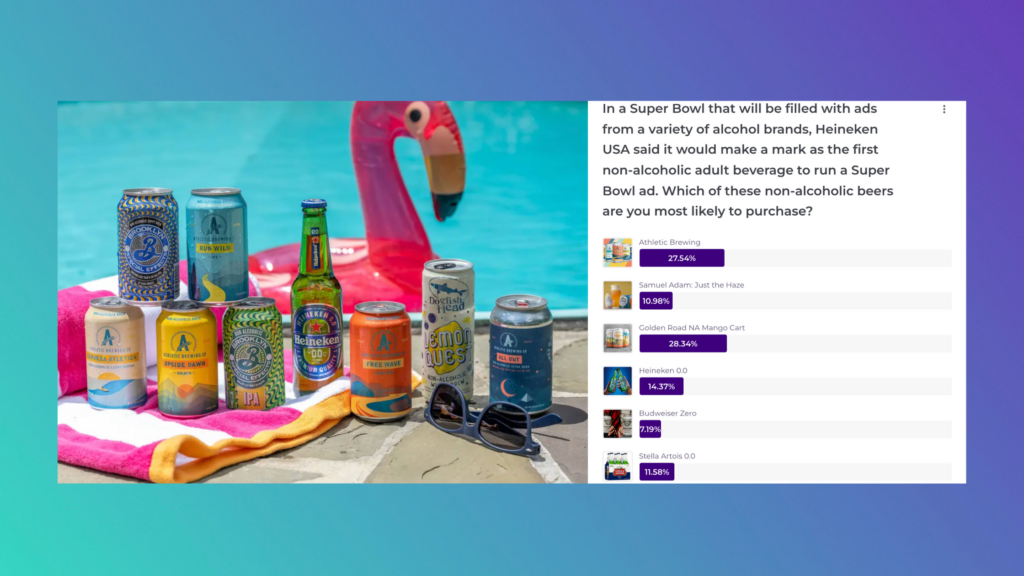 When we asked consumers, nearly 60% said they had never purchased non-alcoholic beer before. When shown other top non-alcoholic beer options, consumers chose brands like Athletic Brewing and ABINbev's Golden Road Brewing.
As consumers become more aware of their drinking habits and the health and wellness benefits of non-alcoholic beverages, Heineken is well-positioned to capture viewers' attention through their Marvel partnership – which 55% of the OnePulse community says they have seen the first installation of the Ant-Man trilogy
A New Wave of Adult Beverage Ads
The Super Bowl has long been known as the pinnacle of brand exposure, and ads that run during the big game have the potential to be seen by a much larger audience than ever before.
No matter what you're trying to communicate you can measure ad effectiveness, recall, and consumer preferences in minutes with OnePulse. Learn how to maximize your return on investment as you prepare for the next big creative campaign and Start Pulsing today!