Case Study
How Agile Research Adds Value to The Evening Standard's Commercial Partnerships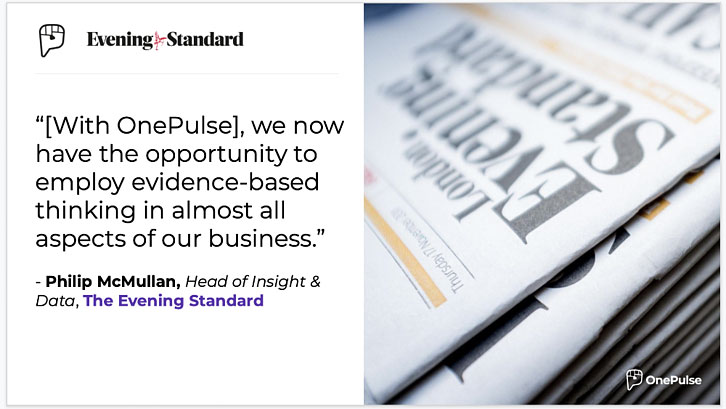 In 2020, the COVID-19 pandemic changed business and consumer behavior practically overnight. Anyone who conducted traditional research in the first quarter of 2020 knew the results would be compromised – by the end of March, the world was a different place.
Fortunately, London-based newsbrand, The Evening Standard, could rely on OnePulse's agile research platform to make data-backed decisions about how to navigate the COVID-19 lockdowns.
OnePulse was a real asset during the early uncertain months of the pandemic. The Evening Standard knew that consumer behavior had changed radically in all sorts of areas but traditional research couldn't capture such quick changes.
"OnePulse has been a really useful tool for us during the pandemic – a lot of the larger datasets didn't get updated for a while so it didn't reflect actual audience behavior during lockdown," said Philip McMullan, Head of Insight & Data, Evening Standard.
For The Evening Standard, OnePulse was a great way of getting quick insights on everything
With OnePulse's insights platform, The Evening Standard can get creative with their research by:
– Proving ROI of ad space to advertisers
– Supporting pitch work for meetings
– Gathering agile insights for articles

With fewer commuters picking up copies of the paper on their way home, the publisher had to pivot The Evening Standard's print distribution to home delivery. OnePulse was essential in proving and ensuring that the paper was being read in those homes it was being delivered to.
The paper also used OnePulse to prove the effectiveness of high value, high impact ad formats. For example, they sent Pulses related to cover wraps to measure recall and consideration, the main metrics for advertising effectiveness.
"We now have the opportunity to employ evidence-based thinking in almost all aspects of our business, this gives stakeholders greater confidence in planned outcomes," McMullan said. "Commercial partners are happy that we can provide proof points that their media investment with us is cutting through to their customers and providing ROI."