By Tom McAllister
Some products are so ingrained into our lives that we couldn't imagine life without them.
Take ketchup for instance: 92% of US consumers always have a bottle of the tangy red goodness in their fridge or pantry—a wide lead above other condiments like mustard (30%), BBQ (26%), ranch (22%), or mayo (20%).
When it comes to ketchup, one brand dominates the space: Heinz sells more than 650 million bottles of ketchup in 140 countries each year, and one of our recent surveys (Pulses) showed that the shelf-share leader has 80% unaided awareness among American consumers.
With a 150+ year history, we knew there had to be more to Heinz's staying power than a perfect tomato and vinegar recipe. Our hypothesis? The everyday icon's use of creative storytelling has been effective in keeping it top of mind for buyers.
We used the OnePulse consumer insights platform to measure the impact of Heinz's recent marketing efforts on younger consumers. Here's what we found out 👇
Adulting is Hard. Being Relatable is Harder.
Picky eaters of the past are growing up: Millennials are now the largest group of consumers, and Gen Z's spending power is on the rise.
In one of their latest ads, Kraft Heinz promotes its No Sugar Added Ketchup. "Adulting Anthem," Heinz evokes the nostalgia of simpler times while recognizing the growing pains of young adults.
"Adulting sucks! You have to eat healthy all the time, but fortunately a ketchup can be 'no sugar-added' Heinz," the protagonist sings as she pops singing chicken nuggets into the oven and laments the increase in cauliflower-based food. Luckily, Heinz is there—along with a cadre of singing animals—to help make life better.
We asked 500 consumers how the ad made them feel. Many found the animated spot silly, but relatable—with some saying it made them feel like a kid again. In their own words:
It makes me feel nostalgic due to the Disney princess style of animation and song.

Female, 25-34 years old
I love it! I didn't know there was a sugar free Heinz ketchup.

Female, 35-44 years old
I makes me feel happy and relaxed. It's funny but realistic at the same time. This video makes me think back to when I was a child.

Female, 25-34 years old
The mini musical struck a chord with younger adults. Our quick Pulse found 82% of adults under 34 were likely or very likely to choose Heinz as their next ketchup purchase after watching the ad.
Lifestyle Influencers + Limited Release Strategies
In "Vampire Recruitment Video," Heinz enlisted TikTok star E.J. Marcus to play Toby, a self-proclaimed veggie vamp who drinks limited-edition Heinz Tomato Blood instead of human blood.
In addition to traditional advertising, the campaign for this limited-time product includes a series of brand extensions:
Advertising during AMC's "Interview with the Vampire"
Exclusive "Bloody" nacho fries at Six Flags locations
A series of TikTok videos showing viewers a "night in the life" of a vegetarian vampire
We tested the creative by Pulsing another 500 respondents, and quickly found that Toby had captured our community's hearts. When asked what they thought about the ad, the majority provided positive feedback: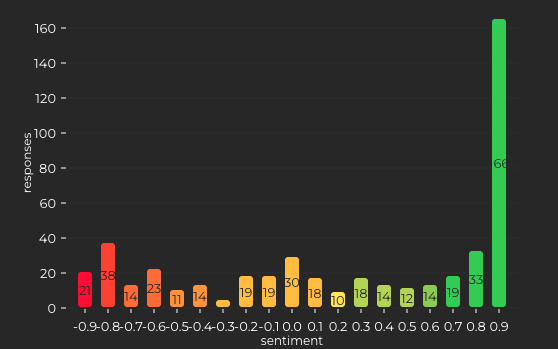 Perhaps unsurprisingly, the ad really resonated with consumers under 25, 71% of whom said the video made them likely or very likely to grab a bottle of Tomato Blood.
Its popularity decreased with age: only 51% of consumers 45-64 and 37% over 65+ were inclined to buy the blood.
The OnePulse platform also allows brands to ask for open-ended responses, which can be both authentic and particularly funny 😂 Here's some of our favorite highlights:
I absolutely love the creativity in this ad. I've never seen one like it. Heinz is on to something when it come to this spooky season don't forget your tomato blood.

Female, 21-24 years old
I loved it. Super dry humor which was hilarious. Never would've thought of this concept on my own and was thoroughly entertained.

Female, 25-34 years old
It's hilarious! Tomato blood! I'm vegetarian so I enjoy it more; but tomato blood is so funny!!

Female, 45-54 years old
Conclusion
TO KETCHUP: We wanted to understand how Heinz maintains its status as king of the condiments. Using the features of OnePulse's guided platform, we set out to measure consumption habits, category perceptions, and creative reception.
In just four short Pulses, we found that their creative use of storytelling has helped forge emotional connections with younger audiences. It's a good lesson for brands in knowing your audience and tailoring your message to meet their ever-evolving needs—and it's something we like to call: the art of the Kraft.
Interested in seeing how your brand resonates with different segments? OnePulse has 65+ demographics to choose from and a highly-engaged global audience. Get in touch for access to instant insights.
Get live insights
With OnePulse, it's easy to get 500 responses in as fast as 10 minutes. Book a trial to start Pulsing for free.